In honor of the release of Avengers: Infinity War, I (Tpops2017) have built this map. The map serves three purposes; first, it is a burn it map and every Avengers statue is hollow and your objective is to survive for as long as possible as lava comes down on the players inside. The map also has several Easter eggs from all of the MCU movies as well as some other handful bits and pieces of information in regards to the movies.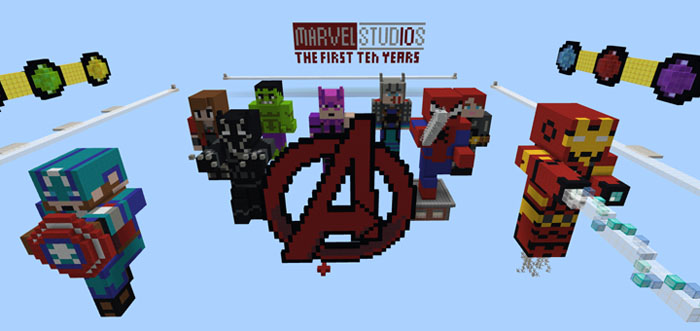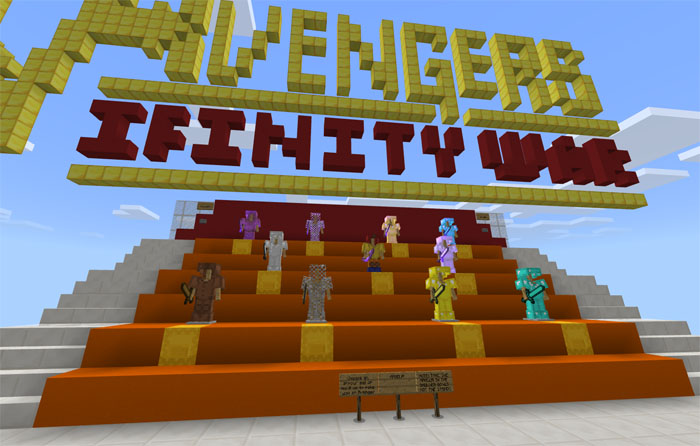 Rules
Play in survival
Suggested to be played in multiplayer or at least 2 players
Last to die wins
No cheating
Don't forget to choose an armor set or FOR THE FIRST TIME EVER IN A MINECRAFT MAP, YOU GET THE CHANCE TO MIX UP EACH ARMOR SET AND MAKE YOURSELF AN AVENGER
Check out EVERYTHING, the map is huge and it took me a while to build so, I have hidden easter eggs for the MCU EVERYWHERE
Enjoy! Have Fun!
Note from the creator:
Ten years ago, marvel began its cinematic universe with the first Iron man movie. Since then, there has been 18 movies all leading up to this: Avengers: Infinity War.
Avengers: Infinity War will see the Avengers assemble once more to battle their most formidable threat yet, the mad titan Thanos.