Whoever thought wasps would be fun are crazy. Oh. That was me..?? I guess they have some redeeming features. Right? They're yellow and black, pretty. They sting a lot. They're real hard to hit. They got flappy wings. Super annoying. Wait, some of these aren't features at all! I think you'll grow to love them anyway. We sure have.
You'll find these little beasties in the Plains biomes, mostly. I think they do hang out in other areas though (forests, savanna??), so you never know your luck. They don't drop a whole lot, yellow dye, maybe. But what do you expect?? They're tiny! Not as tiny as earth wasps, but still quite tiny! You should be thankful you get anything…. They sting! Yes they do. You've been warned….
Pro tip: bring along a pet that loves to much those things down. Direwolves and Giant Ants are just the ticket. I reckon Iron Golems would take a swing at them too, haven't tested that out. Kind of hard to make a pet of those crazy mobs though.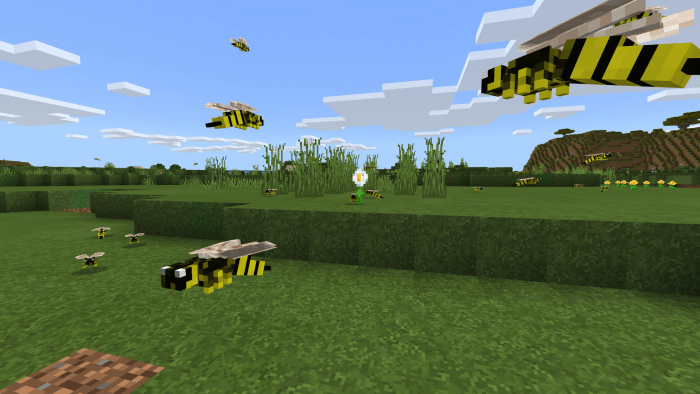 Installation
For Windows 10:

Download the mcaddon file and double-click it to install. Minecraft should open and two packs (behavior and resource) should import.
Create a new world (or click the pencil icon next to an existing world).
Click 'Resource Packs' and select Wasp, press the plus button.
This will add both the resource and the behavior packs to your game.
Click 'Play'
Enjoy!