This is an addon which adds four superhero armors, a bunch of new tools and weapons and also a couple of evil villains to Minecraft Pocket Edition. Equip the armor and weapons and participate in epic battles with villains such as Venom, Loki or any of the other ones which have been added. It's a battle between good and evil and it's up to you to decide who win!
Superhero Armors
Some of the armors in Minecraft have been replaced with the armors of Superheroes. Neither of them offer any extra abilities or powers. However, you can use one of the weapons (which are listed further down on this page) to get some superpowers.
Iron Man = Iron Armor
Spiderman Costume = Gold Armor
Captain America's Suit = Diamond Armor
Deadpool's Costume = Chainmail Armor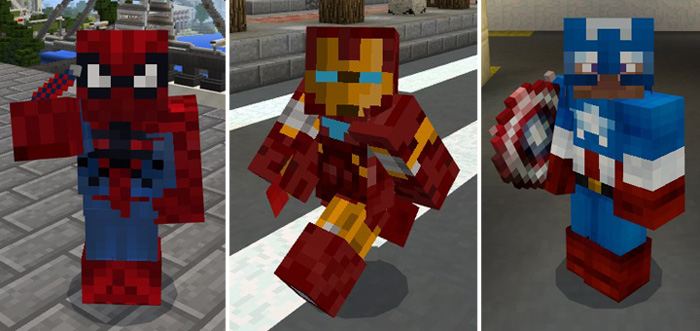 Weapons
The following weapons have been implemented to offer a more powerful range of tools and weapons which you can use to battle the new villains in Minecraft.
Iron Man's Gauntlet (Bow): Shoots laser which causes both explosions and some fire
Captain America's Shield (Fishing Rod): One-shot kills most enemies
Thor's Hammer Mjolnir (Snowball): Strikes lightning and causes a small explosions
Hawkeye's Bow (Bottle 'o Enchanting0): Causes a big explosion and some fire
Black Widow's Gun (Egg): Deals quite a lot of damage, less accurate
Spiderman's Webshooter (Ender Pearl): Instantly teleports the player to where the web lands, one-shot kills most mobs
Deadpool's Katana (Iron Sword)
Here you can see Thor's Hammer (also known as Mjölnir) in action.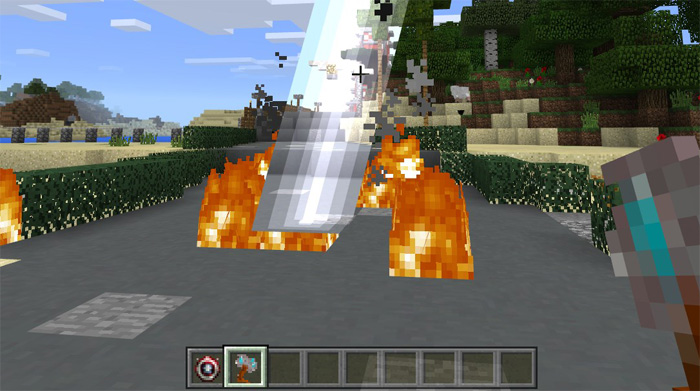 The most powerful weapon appears to be Hawkeye's Bow which replaces the Bottle o' Enchanting. It's clearly incredibly powerful but serves as the perfect tool for anyone who want to be a superhero.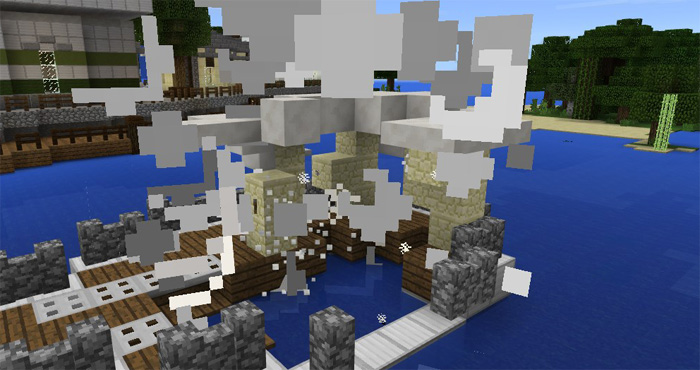 Mobs
Some mobs have been replaced by new evil mobs which will try to harm the player if they get the chance. Make sure to grab one of the new weapons before you try to kill any of the following mobs.
Chitauri (Zombie Pigmen): Aliens from the Avengers movie
Ultron Robot (Skeleton): One of the evil robots from the Age of Ultron movie
Advanced Ultron Robot (Stray)
Mystique (Wither Skeleton): One of the mutants in the X-Men movies
Venom (Zombie): A nemesis of Spiderman
Loki (Husk): Loki in the Avengers movie
Villagers have been replaced by Wolverine, Starlord, Thor, the Black Widow, Cyclops and Doctor Strange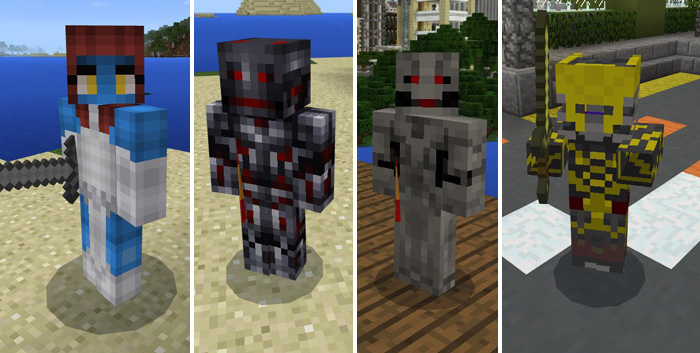 The only friendly mob which has been replaced is the villager which has been replaced by some superheroes. For some reason they are weak and won't fight back if they get attacked. Hopefully that's just a bug which will be fixed in a future update.